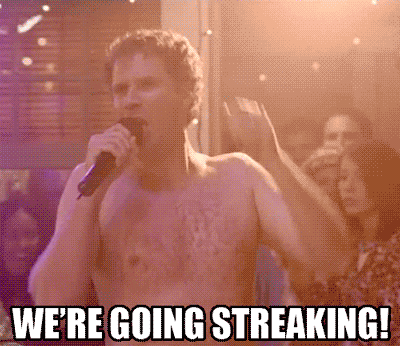 Well, not that kind of streaking.  You see, habits are as big a part of my life as frugal living is.  Creating good habits is what keeps me on track of my goals. But I don't do this only for spending. I also do it for health, social, and familial responsibilities as outlined in my 2016 Goals Half Year Review post.   Healthwise, I set a few goals this year that I have more or less slid on many occasions – find a workout plan I can stick to, daily stretching (still scratching my head on that one), and getting Bubba out more which in turn gets me out more.  These health goals are important because good health leads to lower medical costs which is equal to more money saved.  Voilá. So, after reviewing said goals, I figured it is time to revise them to be more concrete and specific.  So, without further ado…

#1 – WALK 10K STEPS EACH DAY!!! 
They say it takes 3 weeks to build a habit. Walking has always been something that I love to do so I  didn't imagine this would be a hard habit to build.  Have you ever heard of the Camino De Santago?  If not, it is a 500-mile trek across Spain to Santiago De Compostela.  And I've done it – multiple times.  And it is AWESOME…because I LOVE to walk!  Or so I thought…  After dismal numbers at the start of the year (which I blamed on the frigid cold temps) and the equally dismal numbers in the spring (which I blamed on the rainy weather), I had to come to terms with the fact that my long distance walks were not part of my habits so much as they were a vacation choice.  Moving into summer, I realized what I loved even more than walking in this godforsaken Chicago heat is sitting on my couch with my equally unmotivated dog at my feet, in the AC, watching SVU marathons on ION.  🙂  Now that is a habit I need to break!!
So, I made a decision.  Get out and do it.  Be the walker you say you are.  And, as it happens when you finally motivate, last week I checked my phones handy dandy log and found that as of June 1 I have been on track every single day.  10k or more a day!!  Do you know what we call that??  A streak!!  Now, some like to call it a chain, and that's fine.  I prefer streaking because, let's face it, the word insights a more exciting approach to my goals. 🙂  In any case, the end result is the same.  You don't want to break a chain/streak.  You want it to keep building.  There is actual science (and apps) behind this idea.  


Last week I was taken ill with a nasty cold but that did little to deter me from hopping on the treadmill one night to finish up the 3500 steps I hadn't walked that day. The next day, day 3 of the cold, I found it more difficult to continue but I didn't want to break the 11-day streak and so I forged on!!  A few days later I was completely healed and many more thousands of steps were behind me.  I was proud I didn't quit when the going got tough.  This week, sans cold, I have a new obstacle to overcome.  Its 95 degrees and as humid as it can be without rain.  Ugh.  I've been going out early with Bubs and finishing my walking late at night when the sun is down.  But they (whoever "they" is) are right – you will never regret a workout you finished, only the ones you never started.  This may not be a workout, but it is heading in the right direction.  
You see, maybe it isn't that we can't succeed with our resolutions – maybe we put too much pressure on ourselves at the start of each shiny brand new year. Why not eaaaasseee into these things and develop the new habits about 6 months in. 😉  So here we are. Day 20. 245,314 steps and counting.  I intend to up my 10K goal to 12k at the beginning of next month in addition to adding a whole new habit to my repertoire.  Wish me luck!!


**What habits are you trying to make or break?  Are any a product of your New Years resolutions?  Let me know what you've been up to!  We are all in this together.  ;)**